Welcome to the
Online Learning Style Inventory for Adults
If you have a password card like the one pictured below, or you received a password via email, please click on the image of the card to continue.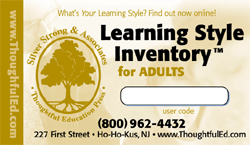 *One password allows one person access to one On-line Multiple Intelligence Inventory for Adults. For more information call 800-962-4432.
Do you already have a user account? Click here to login.